In Memory
Danny Wayne Beavers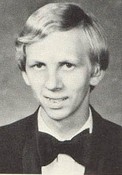 Born: 19 Nov 1955, Nacogdoches, TX
Died: 13 Nov 1997, Nacogdoches, TX
Buried: Nat Cemetery
Cause of death: Choked on a pill after throat surgery
Such a tragedy.
Obituary in the Daily Sentinel received from his mom Mildred, December 2008.
DANNY BEAVERS
Funeral for Danny Wayne Beavers, 41, of Nacogdoches was held at 3 p.m. Friday in Cason Monk-Metcalf Sunset Chapel with burial in the Nat Cemetery.
Officiating were the Rev. W.F. Dill, the Rev. J.F. Trotter and the Rev. James Johnson, all Baptist ministers.
Beavers died Nov. 13, 1997, in Nacogdoches Memorial Hospital. Born Nov. 19, 1955, in Nacogdoches, son of Roland D. Beavers and Mildred Berryhill, he was a dispatcher for the SFA University Police Department and had been in law enforcement for 21 years. He was a volunteer in the Central Heights Fire Department and a memeber of Pleasant Hill Baptist Church.
Surviving is his mother, Mildred Berryhill Beavers of Nacogdoches.
Cason Monk-Metcalf Funeral Directors.