In Memory
Jesse Raymond Bell Jr
Born: 3 Nov 1955 Nacogdoches
Died: 21 Jun 2018 Nacogdoches
Interred: Conroe Memorial Park, Conroe, TX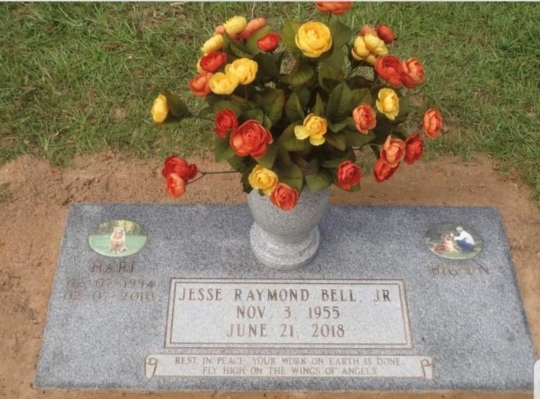 Jesse Raymond Bell Jr.
June 21, 2018
Funeral service for Jesse Raymond Bell Jr., 62, of Nacogdoches will be at 11:00 AM, Monday, June 25, 2018 at Laird Funeral Home, with Bro. Stephen Kinnaird and Jeff Abt officiating. Burial will be at Conroe Memorial Park in Conroe, Texas at 1:30 PM on Tuesday, June 26, 2018.
Mr. Bell passed away on June 21, 2018 in Nacogdoches. He was born on November 3, 1955 in Nacogdoches, the son of Jesse Raymond Bell, Sr. and Agness Smith Bell.
Visitation will be held from 10:00 AM to 11:00 AM, on Monday, June 25, 2018 at Laird Funeral Home prior to the service.
Raymond grew up and attended school in Nacogdoches. Raymond was a very unpretentious man who found solace and comfort in the simple things in life. He enjoyed spending time his family and was often found in the presence of his close and very dear friends. He was content working in his garden or reading a book, of which any kind of book would do. However, Raymond most enjoyed the love shown to him by his favorite companions and best friends, Hari and Big'un. These two pups were his pride and joy and the loss of Hari was a very sad time for Raymond.
Raymond spent many years working and thoroughly enjoyed his careers with the Nacogdoches Fire Department, City of Nacogdoches, and Stephen F. Austin State University where he retired from in 2017. He also joined the Bethlehem Mission Church in 2013.
He was a very loving and loyal man. His dedication to his family and friends as well as the folks he worked for over the years, was a reputation he was very proud of. Raymond was very friendly and loved people. His life was filled with many friends and family members who will forever love and miss his loving smile and happy demeanor.
Pallbearers will be Paul Duval, Kim Taylor, Gary Williams, Joseph Ramirez, Lee Stapleton, Zac Ferguson, Mo Mohundro, and Russell Whitten. Honorary pallbearers are Carl Easley, Andy Easley, John Dunn, Steve Mooney, and Steve King.
Raymond is survived by his mother, Agness Bell Miller of Conroe; sister, Cheryl Easley and husband, Carl Ray Easley of Houston; nephew, Andy Ray Easley of Florida, and his loyal companion Big'un, along with other family and many close friends whom he loved.
He is preceded in death by his father, Jesse Raymond Sr. and his beloved pet, Hari.
In lieu of flowers memorial donations can be made to Bethlehem Mission Church, c/o Kim McClure, P.O. Box 631383, Nacogdoches, Texas 75963 and Humane Society of Nacogdoches P.O. Box 631244, Nacogdoches, Texas 75963.
The family of Mr. Bell is being served by Laird Funeral Home. To convey condolences and to sign an online register please visit www.lairdfh.net.