In Memory
Donald Gale (D. C. ) Curry VIEW PROFILE
Born: 21 Sep 1954 Houston, TX
Died: 17 Sep 2012 Nacogdoches, TX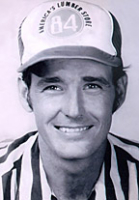 Memorial for Donald Curry (D.C.), 57, of Nacogdoches will be held at 4 p.m. Saturday, Sept. 22, 2012, at 3914 North St. Church of Christ with Shak Arrington officiating. D.C. went home Sept. 17, 2012, at his home in peace. He was born Sept. 21, 1954, in Houston with his twin Ronald Dale Curry. Donations can be sent to Nacogdoches Medical Center Volunteer Auxiliary in care of the Cancer Center P.O. Box 1604, Nacogdoches, Texas 75963.
Published in The Daily Sentinel on September 21, 2012
Click here to see Donald Gale (D. C.)'s last Profile entry.