In Memory
Nancy Renee Green (Cheshier)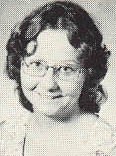 Born: 13 Apr 1956 Bonham, TX
Died: 18 Aug 2006 Bonham, TX
Husband: Jerry
Children: Bradley and Brittany
Lived in Hendrix, OK
Employer: Procter & Gamble
Nancy Renee Cheshier

Hendrix, Oklahoma - Funeral services for Nancy Renee Cheshier, age 50, of Hendrix, Oklahoma will be held at 11:00 AM, Tuesday, August 22, 2006 at Cooper-Sorrells Chapel in Bonham, TX interment will follow in Yarnaby Cemetery, Yarnaby, Oklahoma.

Mrs. Cheshier passed away Friday, August 18, 2006 near Bonham TX . She was born on April 13, 1956 in Bonham, Texas the daughter of James H. and Betty Gibbs Green.

Mrs. Cheshier was a Quality Control Manager and member of Trinity Church.

She is survived by Mother - Betty J. Green of Colbert, Oklahoma; Brother - James H. Green of Jacksonville, Arkansas; Son - Bradley Cheshier and Daughter - Britney Cheshier both of Yuba, Oklahoma. She was preceded in death by her father, James H. Green.

Pallbearers will be Jimmy Green, Marty Smith, Mark Green, Sallie Loftis Young, Terry Smith and Rickey Chapman.

The family will receive friends from 6-8PM Monday night at Cooper-Sorrells Funeral Home in Bonham.