In Memory
Patsy Haney (McIver)
Born: 2 Oct 1956
Died: 16 Mar 2019
Interred: Bethel Cemetery
Appleby, TX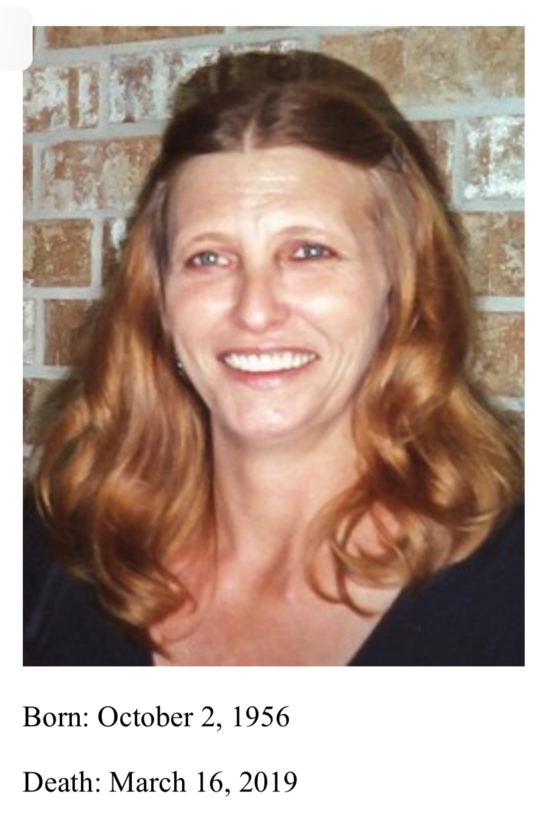 Patricia Ann "Pat" McIver October 2, 1956 - March 16, 2019
Graveside services for Patricia "Pat" McIver, 62, of Nacogdoches will be held at 11:00am on Saturday, March 23, 2019 at Bethel Cemetery in Appleby, Texas with Jordan Gomez officiating.
Mrs. McIver passed away on Saturday, March 16, 2019 in Nacogdoches. She was born on October 2, 1956 in Nacogdoches.
Pat, born and raised in Nacogdoches County, was taught the importance of family from a very early age.
She spent many hours with her mom as she ran Fredonia Hotel for many years.
Pat loved being there and was doted on by the staff.
At 15 years of age, she was in Conroe with her mom while she ran a hotel there.
One day as she was doing what most teenage girls do...sunbathing...a young man, Patrick McIver, was riding by on his bicycle and of course, Pat caught his eye.
He immediately turned around and introduced himself as "Pat" to the beautiful young lady in the green bikini.
Her response was "me too!".
The two were smitten, and in 1974, they were married.
Patricia was the epitome of a loving wife, and with the birth of their children, she knew her calling was to be a mother.
Her lifetime was spent ensuring the kids and Patrick were well taken care of.
She did everything for them, including making her famous homemade yeast rolls and peach cobbler on demand.
However, Pat always depended on her children to help her, especially when she brought home any and all stray animals she came upon.
Born: October 2, 1956 Death: March 16, 2019

She made sure they knew how to grow a garden and work the flower beds, of which she was passionate about.
She enjoyed every minute of the time she had with them, and when she needed a little extra time, they would have a "family day" and all the children would stay home from school with her and experience whatever she had planned for the day.
They would often have a BBQ hosted by "He Pat and She Pat" as they were referred to, with everyone there and many lasting memories were made.
When her children were grown, they blessed Pat with her precious grandchildren, of whom she loved even more than she ever thought she could.
She would spend time coloring, playing Barbies or watching Disney movies. Hearing them call her "Grandma" was the best for her.
Pat will forever be remembered for her love and devotion to her husband, children and grandchildren.
Pat is survived by her husband of almost 45 years, Patrick McIver of Nacogdoches; children, Corey McIver of Nacogdoches, Micah McIver and Jessica Box of Ft. Collins, Colorado, Kris McIver and Joanna Freezner of Jackson, Michigan, Casey McIver of League City, Melanie Thompson and husband, Jeremy of Nacogdoches, Jesse McIver of Ft. Collins, Colorado, Josh McIver of Ft. Collins, Colorado, Meagan Gomez and husband, Jordan of Hempstead, Texas and Jeremy McIver and Deanna Dixon of Nacogdoches; mother, Martha Nell Brewer Hany of Nacogdoches; brothers, Mike Haney and wife, Lynn of Tyler and Henry Haney of Galveston; and 10 grandchildren and the 11th one on the way.
She is preceded in death by her father, Homer Lee Haney; mother and father-in-law Kenneth Ray and Lois McIver.