In Memory
Charles Truett Parrish Jr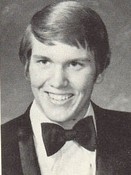 Born: 14 Dec 1955 Livingston, TX
Died : 7 Jan 2009 New Willard, TX
Interred: Bold Springs Cemetery
Killed in a tractor accident. The tractor hit a culvert and he was thrown from it and then run over.

Cochran Funeral home in Livingston is handling the arrangements. The funeral service is 3:00 Sunday afternoon Jan. 11, 2009 at First United Methodist Church in Livingston.
Visitation Saturday Jan. 10, 2009 from 5:00 to 7:00 at Cochran Funeral home in Livingston.
From the Daily Sentinel, Friday Jan 9, 2009
Former resident dies in Polk County wreck

*

Charles Truett Parrish Jr., 53, of Livingston, and previously of Nacogdoches, was killed in an accident at 3:45 p.m., Wednesday, according to the Department of Public Safety. Parrish was southbound on Loop 116 in Polk County, one mile south of Leggett when his 1982 John Deer tractor veered right and struck a culvert, ejecting him where he was struck by the right rear tire, DPS said. A death inquest was performed by Larry Whitworth, Polk County Justice of the Peace precinct 3, DPS said. Parrish was not wearing a seatbelt at the time, according to DPS. The accident was investigated by Trooper Darwon Evans.
Charles Truett Parrish Jr.
Funeral services for Charles Truett Parrish Jr., 53, of Livingston and formerly of Nacogdoches will be at 3 p.m. Sunday, Jan. 11, 2009, at First United Methodist Church, Livingston. Burial will be in Bold Springs Cemetery. Visitation will be held from 5 until 7 p.m. Saturday, Jan. 10. Cochran Funeral Home, Livingston.


Published in The Daily Sentinel on 1/10/2009
---

Charles Truett Parrish Jr.

Funeral services for Charles Truett Parrish, Jr., 53, of Livingston, will be at 3 p.m. Sunday, January 11, 2009, at the First United Methodist Church in Livingston, with the Rev. Mike Mayhugh, Rev. Ricky Ricks, and Rev. James Frazier officiating, with interment to follow in the Bold Springs Cemetery.

Charles Truett Parrish, Jr. was born December 14, 1955, in Livingston, Texas to C.T. (Truett) Parrish and Patsy Wainwright Parrish. He died Wednesday, January 7, 2009, north of New Willard, Texas, while driving the farm¹s tractor and mower in from the pasture. He was preceded in death by his parents. He is survived by his wife, Joyce Byrd Parrish; daughters, Destiny Parrish, Julie Hickmon, Sara Hickmon, and Cinnimon Hickmon; grandson, Westen Price of Livingston; sister and brother-in-law, Patricia and Ricky Ricks of Henderson, sister and brother-in-law, Katherine and Steve Whitbeck of Nacogdoches; brother and sister-in-law, Michael and Carol Parrish of New Willard; nephews, Brent Ricks and Kendall Whitbeck; nieces, Kelsey Ricks and Samantha Whitbeck; and a host of friends and relatives.

Pallbearers will be John Bateson, Craig "Quince" Gibson, Jimmy Harris, Dan Holt, Wayne Lazarine, Fernando Noa, and Steve Watson. Honorary pallbearers will be Boyce Parrish, John Johnston, Burl "Buff" Graham, and Ernest "Pops" Loftin.

Charles enjoyed the first ten years of his life in Livingston riding bicycles, playing army, swimming, roller skating at his father¹s skating rink, and feeding cows in New Willard, Leggett and Seven Oaks. He could often be spotted standing on the cattle bars of his Granddaddy Wainwright¹s truck with his older sister Patricia as they traveled to and from the pastures. He also taught his younger sister Katherine how to smoke one of their daddy¹s cigars. And he participated in the midnight search for his younger brother Michael, who had wandered away from home. Charles was baptized at First United Methodist Church, Livingston, where he and his family were active members. He also visited the Thompson Memorial Presbyterian Church in New Willard with maternal grandparents, C.S. and Florence Wainwright, and often spent Sunday afternoons playing Sorry with his cousins at the Leggett home of paternal grandparents, Lowman and Dovie Parrish.

Charles moved with his family to Nacogdoches, Texas, in 1966, beginning school at Raguet Elementary, continuing through Thomas J. Rusk Junior High, and graduating from Nacogdoches High School in 1974. While in school he participated in band and football in junior high, and in Health Occupational CO-OP Training in high school. Charles trained in radiology and received an award for Outstanding HOCT Student. As a youth, Charles was an active member of First United Methodist Church, Nacogdoches, touring with the Youth Choir, serving on the UMYF Council, attending District Summer Church Camp, and serving as a leader on the Camp Council. He introduced the youth of Nacogdoches to Polk County when he led a mission trip to paint the church in New Willard.

Charles attended Stephen F. Austin State University, graduating in 1983 with a degree in psychology. While in college, he and his friends enjoyed many philosophical discussions while sitting around Table One at the Pizza Inn Restaurant. They became known as the T-1 Gang. During his eclectic career, Charles hitchhiked to Alaska to work in a fish cannery, drove to the Louisiana coast to work on an offshore oil rig, and traveled all over East Texas to mow highways with his father. He also served as a house parent at Summit Oaks near Laneville, and as a social case worker near Tyler and in Polk County.

In 2004, Charles formed Steerwater Management, LCC, with Patricia, Katherine, and Michael. He served as vice-president and secretary. He educated himself about cattle, timber, oil leases, mineral rights, and land surveying. He could often be found in the Polk County Courthouse, pouring over maps and deeds, or out in the pasture, working with cattle, planting trees, and fixing fence. Charles served as secretary for the Polk County Forest Landowners Association and trustee for the Thompson Memorial Church.

Charles became the husband of Joyce Byrd and the father of Julie, Sara, and Cinnimon in 1996. He and his new family welcomed his and Joyce¹s daughter, Destiny Charla Lorraine, in 1997. Charles was a dedicated, loving, and compassionate father: "a great daddy." He encouraged his daughters in their activities: soccer, band, choir, drill team, and art. Charles also provided opportunities for spiritual growth, becoming active again at First United Methodist Church, Livingston, teaching Sunday school, and encouraging his daughters¹ participation in Sunday school, children¹s choir, church camp, and other church activities. In April 2008, Charles proudly listened to Destiny sing a solo in worship, and watched her climb the Stuart W. Moore Memorial Climbing Tower. In July, he welcomed his grandson Westen. Charles loved his nephews Brent and Kendall and nieces Kelsey and Samantha, showing his affection for them by repeatedly telling them "I love you so much" and giving them really good hugs and kisses.

He extended his love to all of his family and to all of his friends. Charles was a marvelous dancer, which his mother and sisters appreciated. Like his parents, he was an avid reader. He was also a writer. To a few people, he was known as "Ignatz." He wore his cross and peace sign necklace, his bandanas, his faded jeans, his sandals or duck-taped rubber boots, his several coats at one time, and his hair in several styles varying from buzz cuts to twelve-inch ponytails. He always had a Dr. Pepper in hand, and often asserted that he should have invested in Dr. Pepper so he could recoup some of his expenses.

Charles had a high regard for nature and wildlife, especially butterflies, and always wanted to start a company named "Butterfly Enterprises." He was a compassionate person. To further extend that compassion, the family requests that memorials be given to Missions and Children¹s Ministries at a local United Methodist Church, the National Wildlife Fund, or to the Patsy W. Parrish Scholarship, NHS Alumni Association, 4310 Appleby Sand Road, Nacogdoches, TX, 75965. "Butterflies have but moments and have time enough." Cochran Funeral Home, Livingston.
Escorting Mary Davis Homecoming 1973
Dancing with the guys Homecoming Pep Rally 1973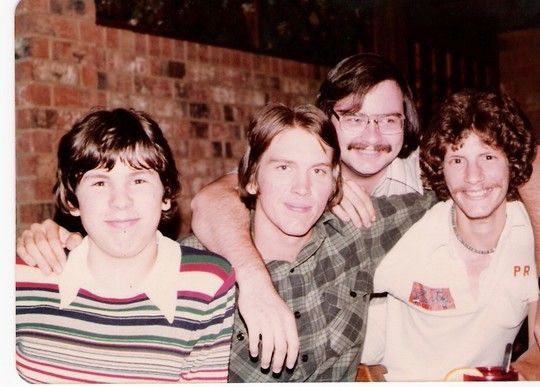 The T-1 Gang